What to look for in a light/heavy duty truck and equipment repair shop in Columbus, Ohio?
Most truck drivers are too busy to worry if their mechanics are good or incompetent. However, they must do the research because there are few quick fixes for truck repairs, even for the most experienced professionals. Also, different types of trucks have different capacities and needs. There are several good qualities to look for in a light and heavy duty truck repair shop in Columbus, Ohio.
Mechanical Repairs – $75 per hour with a minimum of $50.
We work on all types of truck, trailer, small engines, and tank repairs as well as custom fabrication work.
GENERAL SERVICES
TRUCK & TRAILER CARE
UNDERCARRIAGE SERVICES
BRAKES
ENGINE & TRANSMISSION
ENGINE MAINTENANCE
4X4 SERVICES
SEALCOAT EQUIPMENT
SNOW PLOW/SALT SPREADER REPAIR
TRANSMISSION SERVICES
HEATING & COOLING SERVICES
ELECTRICAL SERVICES
MISCELLANEOUS SERVICES
DOMESTIC TRUCKS
IMPORT TRUCKS
TOWING
TANK REPAIRS
WELDING & FABRICATION
Light vs. Heavy-Duty Truck Repairs
There are major differences between repairs made for light and heavy-duty trucks. Knowing these differences helps anyone avoid getting the wrong repairs and paying the price later.
Light-duty trucks carry 4,000 pounds of weight or less. The trucks are mainly designed to carry people and have additional features for off-road driving. Sports utility vehicles (SUVs) and pickup trucks fit into this category. Heavy-duty trucks are divided into 8 different classes with weights that vary from 6,000 to 14,000 pounds.
Heavy-duty trucks have more complex parts not found on light-duty trucks. Large trucks that carry heavy tons are more likely to break down and fall apart. Trucks and buses are commercial vehicles that are driven more often and for very long distances. Big truck drivers are advised not to exceed certain weights; however, there are many times when that rule is not followed.
Professionals at a truck repair shop in Hilliard Ohio understand the standard weights and specifications of commercial trucks. They only perform repairs and install parts that are compliant with local and state trucking laws.
The Qualities of a Great Repair Shop
Repairing a big truck is a big job that may need extra hands. It is essential to know the good qualities of a heavy and light duty truck repair shop in Hilliard Ohio. First, knowing the reputation of a company is the easiest way to determine its value. Customers usually do not lie – they all want the best possible service. Checking the customers' opinions is the most effective way to find a great business.
A large variety of services offered is another good quality. Customers should consider the different types of repairs for different parts of the truck, such as the brakes, suspension and trailers.
Ideally, the shop should include maintenance services. Maintaining the parts is necessary to avoid making expensive repairs in the future. Typical truck maintenance includes changing the oil in addition to checking the tires, mud flaps, bed and lights.
Finding a truck repair shop in Columbus, Ohio is a challenge for most drivers. Driving a commercial vehicle is simple, but repairing it is out of the expertise for many drivers. Light and heavy-duty trucks should be repaired in the same ways. Also, making a simple repair, even on a small truck, could require input from many different mechanics. Fortunately, there are companies that understand the extensive needs of truckers in the area.
TRUCK REPAIR
STEP LADDER
CUSTOM BED SIDING
HINGED CUSTOM FAB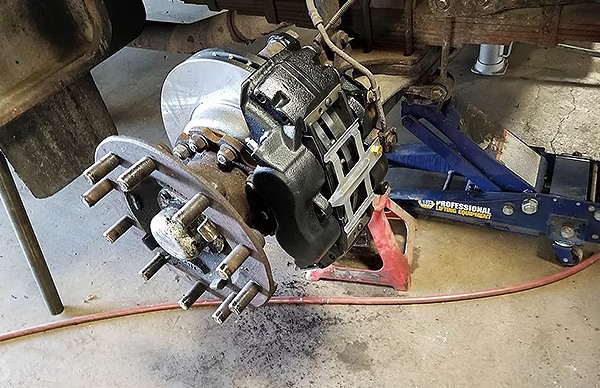 HUB REPAIR
TRUCK BED FABRICATION